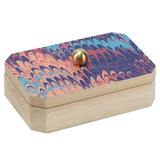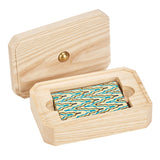 navy marble playing card set
$ 110.00
FSC certified solid Ash playing card box set, custom printed lid, with matching paper playing cards and brass hardware, make this item a lovely and functional addition to your den, library or children's room.
colors: navy, peach, sky blue, bright red
details: 4"x6"x2",  54 set of standard poker playing cards (2.5"x3.5") in custom printed paper tuck box.
content: FSC certified Ash
Made in Los Angeles, cards made in the USA.